Well I guess '14′ is not a very important number, since Google's own birthday doodle is an animated GIF: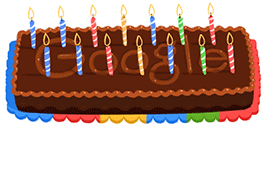 Does that really say PooP?
.. unless you count this '14′ year old girl with '14′ million views?
[iframe width="480" height="360" src="http://www.youtube.com/embed/lXbC1p8jaKU?rel=0" frameborder="0" allowfullscreen][/iframe]
That's evil Google, even if you didn't actually make that the top search result for '14 years old', it's very evil.
Stop! Jail Time!
Speaking of unintentional evils, Google's chief executive in Brazil, Fabio Jose Silva Coelho, was arrested and then released after a Brazilian court found him guilty of violating South American pre-vote election laws.
Fabio's crime? He denied a request to have politically sensitive videos removed from YouTube.
The same judge also ordered a .5 million dollar per day 'penalty' for Google to pay if it continues to host the videos!
Since the videos are not in English and most of the news sources are English, finding these 'horrible' videos isn't very easy.
Here's one explaining a connection between the candidate for Mayor, Alcides Bernal, and a money laundry scheme with a co-operative taxi service.
[iframe width="480" height="360" src="http://www.youtube.com/embed/OUPRVnnBeds?rel=0" frameborder="0" allowfullscreen][/iframe]
My Portuguese is pretty non-existent, but even without Google Translate
, it's pretty clear that the candidate for Mayor isn't being promoted favorably in this video.
Google is facing similar political pressures over the recent anti-Muslim videos, including fines, however they are all currently being left online by YouTube/Google as it's very clear that no rules of the service have been violated and removing the videos would merely make people want to share them even more.
Bearded Sikh Woman Teaches Reddit A Lesson
In fact these political types could learn a great lesson from a young Sikh woman who recently was ridiculed for not tending to her facial hair/beard over on Reddit's r/funny boards : source
Ugly remarks like: "Transgender Sikh Dwarf" didn't phase Balpreet!
Rather than get upset, Balpreet Kaur, took the attention as an opportunity to register with Reddit as a new user and explain herself in a calm respectful manner.
This resulted in a huge cultural awareness among the thread readers, and she is currently being hailed as an outstanding example of how to handle criticism.
Here's the full story
(with twitter reactions) over on CBC News.
You go girl!
SEO news blog post by Ryan Morben @ 12:36 pm on September 27, 2012